Pumping iron in the gym is not the only way to lose weight and get in shape. Sometimes, you can burn calories through fun activities. Using stairs instead of taking elevators is a simple tweak that will help you lose several calories in no time. Yet another simple way to burn calories is to do some jumping jacks. Keep reading to learn about jumping jacks calories and the right way to do it.
How Many Calories Will Jumping Jacks Burn?
Quite interestingly, you can get an effective cardio workout and burn quite a few calories with jumping jacks. However, when you ask about jumping jacks calories, it is important to consider some other factors, such as the number and the intensity of jumping jacks.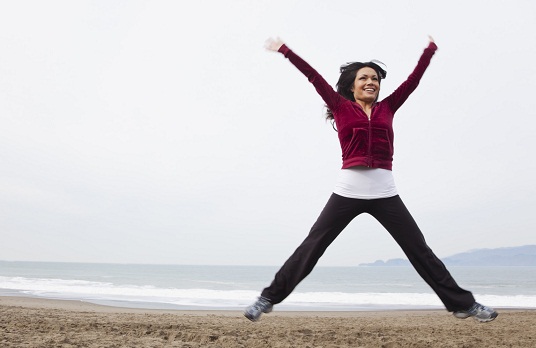 100 Jumping Jacks = ? Calories
How fast you perform jumping jacks will have a direct impact on how many calories you lose in a session. Your body weight will have an impact as well. Most adults can burn 100-200 calories by doing 100 jumping jacks. It is believed that you will lose a couple of calories per jumping jack – that's when you maintain a moderate intensity. It is important to bear in mind that though jumping jacks work effectively in losing calories, the activity may put excessive strain on your ankles and knees. Therefore, it is important to wear appropriate shoes and perform jumping jacks on a soft surface.
The intensity of your jumping jacks will also affect the total calories burn in a session.
If you are in moderate intensity, you will feel your heart rate increasing with sweating a bit. You will be able to carry on a conversation though. If you weigh 150 pounds, you can burn about 153 calories by doing moderately intense jumping jacks for 30 minutes. You will burn about 204 calories if your body weight is 200 pounds and you do jumping jacks for the same amount of time.
If you are in high intensity, jumping jacks calories will be different. High intensity means you're breathing fast, your heart rate is quite fast, and you're only able to speak in short phrases. In this case, you will burn 274 calories if your body weight is 150 pounds and you work out for half an hour. A 200 pounder can burn 366 calories in the same amount of time.
You can also click HERE to calculate the jumping jack calories based on the exercise time and your weight.
How to Do Jumping Jacks
To burn more jumping jacks calories, it is important to do this exercise in a proper way. Here are the steps to achieve a great result:
Stand upright with both your feet together and arm extended by your sides.
Bend your knees a bit and push your body using the balls of your feet. Now, straighten your knees and use them to jump up while keeping your legs spread and hip wide apart.
While jumping, raise your hands above your head until your hands touch together.
Make sure to bring your hands to your sides again and your feet together while returning to the ground.
Repeat without any pause.
Tips and Warnings
The amount of jumping jacks calories you lose make it a great activity, and it's generally safe when performed properly. However, it is a good idea to pay attention to certain tips to stay safe and get maximum benefits.
Be sure to bend your arms slightly when raising them. This will engage your triceps and biceps as well and help increase the intensity of the exercise.
This is a high impact exercise, so you need to consult your healthcare provider before starting doing jumping jacks. Stop the exercise immediately if you notice any discomfort after a session.
Below is a video you can follow to burn calories fast:
30 Easy and Interesting Activities to Burn Calories
Just like jumping jacks calories, there are many other fun and interesting activities that will help you burn hundreds of calories in a short span of time. Here are some of the very best you can include in your daily routine.
| | | | |
| --- | --- | --- | --- |
| Activities | Time to Burn 100 Calories (minutes) | Activities | Time to Burn 100 Calories (minutes) |
| Biking | 23 | Darts | 35 |
| Elliptical | 8 | Dancing | 20 |
| Cardio dance class | 15 | Bowling | 30 |
| Jumping rope | 9 | Skiing downhill | 10 |
| Pilates | 24 | Treading water | 23 |
| Swimming | 15 | Water skiing | 15 |
| Running stairs | 6 | Volleyball | 26 |
| Rowing machine | 13 | Raking leaves | 23 |
| Running | 9 (at 6mph) | Mowing the lawn | 20 |
| Walking stairs | 11 | Shoveling snow | 15 |
| Lifting weights vigorously | 15 | Weeding the garden | 18 |
| Zumba | 11 | Pushing a stroller | 35 |
| Yoga | 20 | Sweeping | 23 |
| Water aerobics | 23 | Shopping | 38 |
| Ice skating | 18 | Doing dishes | 40 |