Lacto Calamine is a skin care lotion that has been favored by several generations of women and men alike. The time-honored tradition of passing along the use of Lacto Calamine Lotion from mother to daughter has made it one of India's most recognized skin care products.
There are two varieties of Lacto Calamine; one for oily-to-normal skin and one for dry skin. The main difference between the two is that the one for dry skin adds aloe vera to the ingredients. For those of you who doubt the effects, here's the information you need.
Unbiased Lacto Calamine Review
Lacto Calamine is claimed for reducing acne and redness of the skin, keeping the skin oils at bay, exfoliating dead skin cells, and giving the overall appearance of lovely skin.
Ingredients and Benefits
The ingredients in Lacto Calamineare water, kaolin, glycerin, castor oil, zinc oxide, and zinc carbonate, along with emulsifiers, perfumes, preservatives, and colors. These are common ingredients used in many skin care products, but the unique combination of them gives Lacto Calamine Lotion its special properties.
Zinc oxide and zinc carbonate have healing properties when used in combination with one another and a few other ingredients, which makes Calamine lotion effective for skin irritations, such as acne, blackheads, rashes (including poison oak and poison ivy), redness, sunburn, and even mosquito bites. Zinc oxide also inhibits the production of excess sebum in the skin, which causes pimples.
Castor oil and glycerin help moisturize the skin and also act on skin blemishes. Kaolin provides a smooth texture to the skin, making it feel soft and smooth after applying the lotion.
Aloe vera added in products for dry skin is very moisturizing and soothing.
Personal Lacto Calamine Reviews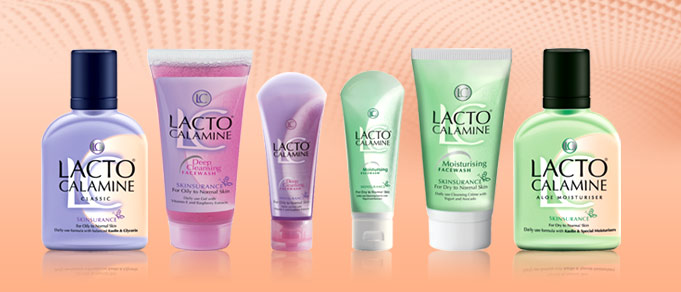 However, like all other skin care products, not all people will enjoy the same effects. Here we've selected the most typical ones so that you can make the decision of using it or not. Just make sure you are not allergic to any ingredients and test on your wrist or hand before applying on face.
This lotion is helpful for skin that is exposed to sun damage and other polluting agents. The calamine ingredients aids skin healing and treats sunburn. I have used this product for four years and like it very much.
When I initially applied this lotion it felt smooth, but it didn't absorb into my skin very well. I added a few drops of olive oil to the lotion and this worked like a charm. My skin felt and looked soft and vibrant. I don't have any acne, so can't say whether or not it works on that. I do use it as a makeup base.
My mom has used Lacto Calamine lotion since she was a young girl and recommended it to me.
My son ate something that gave him an itchy rash all over his body. I didn't know what to do, then decided to try putting Lacto Calamine lotion on him. It gave him immediate relief from the itching and discomfort. Within two days the rash was gone. I keep a bottle on hand at all times. It's readily available and a great value!
When I first apply the lotion, it looks rather white and cakey at first. I top it with sunscreen, which gives my skin an almost flawless glow. I really love this stuff!
This product has a light pink tint, doesn't smell very good, feels more like a medicinal cream, but it absorbs quickly and gives a matte finish. It lives up to its claim of oil control. It lasts me a full six to seven hours after application. I carry a bottle in my purse all the time.
Lacto Calamine lotion isn't very moisturizing in the winter on dry skin. Contrary to claims, it doesn't reduce blemishes or dark spots. It has an unpleasant smell.
I like this lotion as it provides the hydration my skin needs, yet without leaving it greasy. It can be used as a makeup base. It absorbs best on damp skin. It removes the dull layer of skin and minimizes skim blemishes. I was glad to see it contains castor oil because castor oil is good for pimples and keeps my skin glowing. It also doesn't clog my pores, which is important.
My Lacto Calamine review is that it has benefited me a lot by removing some ugly scars I had. Nothing else I've ever tried worked—just Lacto Calamine Cream.
One day my two girlfriends and I decided to try Lacto Calamine Lotion. I have very sensitive skin and they have dry and oily skins. This lotion actually suits all three of us and has been very effective.
This product is amazingly good. I live in China and the climate had spoiled my complexion, but since I have started using this product, I don't like any other cream. It has done wonders for my skin. My friends have noticed the change in me.
Here's my Lacto Calamine review! I never had any skin problems until I was 27. Then I got three or four pimples. I Googled skin care products and found Lacto Calamine, so I ordered some. The reviews on the website I looked at said this stuff would cure acne, make skin smooth and beautiful. You can read the fake reviews for yourself! What a crock! This stuff is awful! The first time I tried it, the next day I had twice as many pimples. I even gave it a second chance a week or so later, and then a month later, but with the same nasty results. Don't be fooled by this fake product!!! Use at your own risk!!
FAQs about Lacto Calamine
Besides Lacto Calamine review, here are some FAQs you might want to know:
Is Lacto Calamine Lotion an effective sunscreen?
The lotion contains zinc oxide, which does offer some protection from the sun. However, it has no definite SPF number, so use carefully.
How is Lacto Calamine used?
Apply Lacto Calamine Lotion after washing your face in the morning. After ascertaining that it is compatible with your skin type and condition, you may also use it at night. If it dries your skin too much, use it only in the morning and another moisturizer at night.
What are the benefits of Lacto Calamine?
The zinc ingredients help with acne control; castor oil and glycerin are moisturizers; kaolin clay keeps the skin oil-free.
Does Lacto Calamine Lotion help with oily-skin acne?
It helps with occasional pimple outbreaks. Do a small test if you have severe acne.
Will Lacto Calamine cure pimples?
Zinc oxide is an astringent, which means that it helps curb oil production, thereby limiting pimple outbreaks. It will rapidly dry up existing pimples.
Will Lacto Calamine eliminate dark pimple marks?
It will lighten pimple marks because of the accelerated healing and the sun protective qualities.
Will Lacto Calamine fade acne scars?
Not really. It can't fill up small indents left by acne. However, it will reduce the redness around the scars, making them less noticeable.
Does Lacto Calamine have comedogenics?
Castor oil and glycerin are usually considered to be comedogenics. Castor oil is known to actually cause acne, so if you have adult acne, or cystic acne, you may not wish to use this product because it also does not explain the details of the perservatives added.
Is Lacto Calamine for men?
Certainly! It will leave a slight pink tinge to the skin that is barely noticeable.