Neck pain can originate from any part of the neck. But pain in front of the neck can be particularly unbearable because swallowing of food or drinking water may be a problem. Pain radiating from the front of neck makes any process involving neck muscles difficult. Symptoms of frontal neck pain are often difficult to diagnose, because the pain may be caused by many conditions and illnesses of spine, jaw, or neck. Therefore, a patient complaining of frontal neck pain should undergo a rigorous examination from the doctor.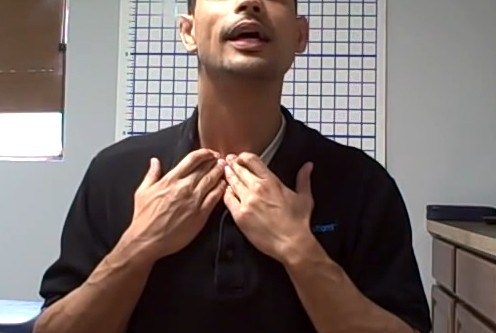 What Causes Pain in Front of Neck?
1. Temporomandibular Joint Disorder
Temporomandibular joint disorder or TMJ is listed as one of the causes of frontal neck pain. In this condition, the joint that connects the base of the cranium to the upper jaw becomes tender and painful. The underlying reasons include dental problems, misalignment of jaw or teeth, or arthritis.
2. Swollen Lymph Nodes
When lymph nodes on the neck swell, they cause neck pain. The causes of this swelling could be a form of cancer, viral or bacterial infection. In some cases, an abscessed tooth can cause swollen lymph nodes, resulting in the pain in frontal neck.
3. Whiplash
Whiplash is an injury to neck region, normally caused by jerky or quick movements with a higher intense force in the neck. Motor vehicle accidents can cause whiplash to some people, thereby causing severe neck problems.
4. Lupus
Lupus can increase or cause neck pain to some people. It is a chronic condition, more common in women. Patients afflicted with lupus may experience swelling of various body organs and joints, including frontal neck. It can become inflamed or rigid.
5. Laryngitis
Laryngitis is one of the causes of pain in front of neck. According to studies, laryngitis or inflammation of voice box may cause blockage of upper airways and inflammation on the frontal region of the neck. In some cases, the pain is severe and swallowing becomes difficult. Causes include allergic reactions, gastroesophageal reflux and tobacco consumption.
6. Throat Cancer
Common symptoms associated with throat cancer include hoarseness, problems with swallowing, sore throat and neck, ear pain, and sudden weight loss. There are certain activities which increase chances of developing throat cancer – these include chewing tobacco, consuming excess amounts of alcohol, and smoking. Other risk factors include HPV, diet low in fruits and vegetables, and poor dental hygiene among others.
7. Thyroid Problems
Thyroid conditions can also cause frontal neck pain.
Hyperthyroidism is a condition where there is an excess production of thyroid hormone. It can cause swelling and pain in the frontal neck region.
Hypothyroidism is the production of low amounts of thyroid hormone and this causes severe pain in the neck.
Thyroid cancer can cause a lump in the frontal neck region. In such a case, it may appear enlarged and swallowing of food and water can be a daunting task.
Goiter is a term referring to swelling of the thyroid gland. When the thyroid gland enlarges unprecedentedly, it causes pain on the neck, and depending on the severity of the condition, the pain may be very severe.
8. Other Causes
There are other causes of frontal neck pain. All the conditions should be treated accordingly.
Poor posture or slouching
Sinusitis and tonsillitis
Herniated discs and muscle strain
Bone spurs
How to Treat Pain in Front of Neck
1. Temporomandibular Joint Disorder
In some scenarios, symptoms of temporomandibular disorders can disappear without treatment. If symptoms persist, you should seek medical advice. In this situation, there are various treatment options. You can take painkillers, anti-anxiety drugs, muscle relaxants, and antidepressants. A night guard or splint can be placed on lower and upper teeth to prevent touching of the teeth. Dental work may be required in some cases to correct bite problems.
2. Swollen Lymph Nodes
Treatment of swollen lymph nodes should focus on treating the cause. For example, if it is bacterial infection, use antibiotics. In case cancer is suspected, it is important that you carry out a biopsy for diagnosis. Always consult your physician for further advice when pain persists for more than a month.
3. Whiplash
Whiplash usually heals on its own if given time. However, to help quicken recovery processes, apply an ice pack on the neck and use painkillers or other drugs to ease pain in front of neck. In addition, moist heat will help reduce inflammation on the neck. Use collar or brace to stabilize the neck if necessary.
4. Lupus
Lupus can be treated depending on the symptoms presented. It is essential that you consult with your doctor to determine the treatments. Medications that usually help reduce effects of lupus include immunosuppressant, corticosteroids, antimalarial drugs, NSAIDs.
5. Laryngitis
In most scenarios, laryngitis heals on its own without any medical prescription or treatment. You can try simple self-care measures to help heal quickly. Resting and only speaking when necessary will quicken the healing process. It is crucial that you avoid whispering because it puts too much pressure on the voice box. In addition, install a humidifier, drink fluids and gargle with salt water to help alleviate laryngitis symptoms.
6. Throat Cancer
Early diagnosis makes recovery easier. Depending on your conditions, the treatment options include radiation therapy, surgery, chemotherapy, targeted drug therapy, etc.
7. Thyroid Problems
Doctors prescribe various medications that will help alleviate thyroid problems. For example, hypothyroidism can be cured by administering levothyroxine. The medication supplies the hormone. In addition, antithyroid medicines can help eradicate hyperthyroidism.