Indeed, you can have a well-balanced diet that includes cheese, because it is a great source of protein, calcium and other nutrients. But cheese contains saturated fat and cholesterol which can raise the cholesterol level in your blood. You need to remain within the recommended daily intake of 300 milligrams for a healthy adult and 200 milligrams for an adult on a low cholesterol diet. Eating cheese requires moderation and smart choice. Fortunately, you have a whole range of cheeses to choose from.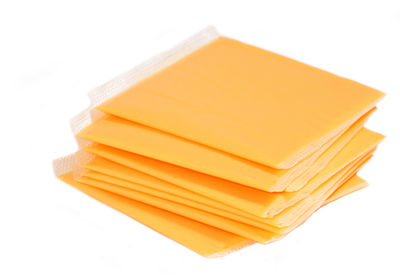 Low Cholesterol Cheese List
If you are on a low cholesterol diet, choose the ones low in cholesterol from this table.
| | | |
| --- | --- | --- |
| Cheese | Serving Size | Cholesterol (mg) |
| Nonfat or Fat Free Cream Cheese | 1 slice or 1 oz | 2 |
| 1% Low Fat Cottage Cheese | 1/2 cup | 5 |
| Nonfat or Fat Free Cottage Cheese | 1/2 cup | 5 |
| 2% Low Fat Cottage Cheese | 1/2 cup | 9 |
| Low Fat American Cheese | 1 slice or 1 oz | 10 |
| Ricotta Cheese | 1 slice or 1 oz | 14 |
| Cottage Cheese with Fruit | 1/2 cup | 15 |
| Pizza Cheese | 1 slice or 1 oz | 15 |
| Regular Cottage Cheese | 1/2 cup | 17 |
| Low Fat Cream Cheese | 1 slice or 1 oz | 17 |
| Mozzarella Cheese (Part Skim) | 1 slice or 1 oz | 18 |
| Asiago Cheese | 1 slice or 1 oz | 19 |
| Provolone Cheese | 1 slice or 1 oz | 19 |
| Parmesan Cheese | 1 slice or 1 oz | 19 |
| Camembert Cheese | 1 slice or 1 oz | 20 |
How to Eat Cheese in a Healthier Way
The eating methods also help reduce the cholesterol intake from your diet.
Don't eat cheese in every meal. You can easily find yourself eating cheese in your breakfast, lunch and dinner, varying only with what you accompany it. Deliberately avoid the habit of eating cheese with every meal and choose low cholesterol cheese.
Substitute healthier options for some of the cheese on your sandwiches. Think vegetables such as tomatoes, sprouts, mushrooms and peppers. Other healthy sandwich fillers such as horseradish, spicy mustard and salsa will add great flavor without extra fat or cholesterol.
Try other meat-free protein alternatives besides cheese. If your goal is to cut back on meat or go meatless, include nut butters, beans, tempeh, tofu and hummus. All the above alternatives are great and healthier.
Precautions for a Low Cholesterol Diet
In your quest to adopt a low cholesterol diet, take the following precautions to ensure you avoid unhealthy excesses and eat a healthy diet:
1. Fat
Avoid processed, convenience foods high in fat.
Choose vegetable oils such as olive oil.
Go for non-fat or low-fat products or opt for homemade versions made with low-fat ingredients.
Limit your chocolate intake.
Avoid stick margarine, butter, shortening, lard, etc. and make sure you choose margarine without trans-fats.
Eat nuts moderately.
Read labels carefully to ensure minimized trans and saturated fat intake.
2. Dairy
Choose low-fat or non-fat milk and yogurt.
Choose low cholesterol cheese produced from low-fat milk.
Opt for fat-free or light cream cheeses and sour creams.
Stay away from cream and cream sauces.
3. Meats and Meat Alternatives
Opt for lean meats, chicken, turkey and fish.
Eat not more than three to four egg yolks per week.
Include lentils, dried beans, peas and tofu in your diet.
If you eat meat, limit it to a maximum of three servings per week.
Keep away from organ meats.
Choose red meat instead of fatty meats such as ribs, bacon, sausage, franks, etc.
4. Breads, Cereals and Grains
Eat whole grain bread, pasta, rice and cereals.
Keep off high-fat snacks such as cookies, pastries, pies, granola, croissants and doughnuts.
5. Fruits and Vegetables
Eat different fruit varieties.
Add olive oil, lemon juice or vinegar to your vegetables.
Don't add sauce, fat or ordinary oil to your vegetables.
6. Cooking Tips
Keep away from deep fried foods.
Opt for baked, boiled, broiled, poached or roasted lean meat, poultry or fish.
Cook with little or no fat or oil.
Skin poultry and trim visible fat from meats before cooking.
Spray vegetable oils to grease baking or cooking pans.
Drain and discard fat and oil from meat when cooking it.
Flavor foods with herbs and no-oil marinades.
Steam vegetables.
Use low cholesterol cheese whenever you use cheese in a meal.
7. Sodium and Salt
Sodium, normally ingested when you eat salted foods, is linked to high cholesterol level and heart disease, and is directly associated with hypertension. You can easily be on a low sodium diet by using spices to flavor your food and limiting use of table salt. Before buying any food products, always read the label and watch out for the sodium/salt content.