When you want to lose weight to be in great shape, it is never easy to determine what you should or should not eat. Selecting the right snacks will be an even more difficult task. Some snacks that may look high in calories are actually quite beneficial for anyone trying to be in shape. The combination of apples and peanut butter is just such a great choice, so long as you ensure that you have selected natural peanut butter. Read on to find out how to prepare something nice with these two ingredients.
Apples and Peanut Butter, Is the Combination Healthy?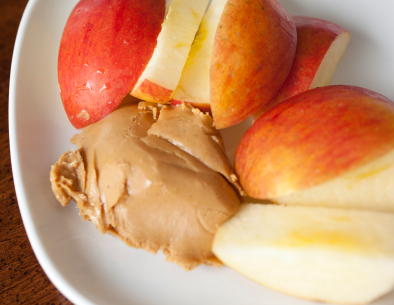 Yes, they are good for you in many ways. Here are just some reasons why this combo works great for your health.
1. Good Fat Source
Peanuts contain monounsaturated fat, and it plays a role in burning excess fat and building muscle. It is due to the presence of monounsaturated fat that peanuts help lower cholesterol and even reduce the risk of heart disease.
2. Good Source of Protein and Fiber
A 2-tablespoon serving of peanut butter contains about 7-9grams of protein and 1 gram of fiber. On the other hand, an apple has up to 3 grams of fiber. You can find other fiber-rich food sources as well, but apples and peanut butterwork great as a midday or even post-workout snack.
3. High in Energy
The combination of apple and peanut butterworks great because peanut butter has many calories but apples have a few only. They complement each other and provide you with good energy. You get about 200-250 calories from a serving of peanut butter, which means you will get 12.5% of your daily allowance of calories when sticking to a 2,000-calorie diet. These calories provide your body with energy to do your workout in the right way. Moreover, the calories you get from peanuts come from protein and fat, both of which are good for your body. Similarly, the calories you get from apples come in the form of simple carbs, which your body can use quickly.
4. Vitamins
Apples and peanut butter, as a snack, contains vitamin C as well. Even a small apple can provide you 7grams of vitamin C—9% of your recommended daily allowance. Vitamin C is extremely important for your immune system and also helps repair tissues in your body. You will also get about 29% of your daily requirement of B vitamin niacin from a two-tablespoon serving of peanut butter. Niacin helps reduce LDL cholesterol and triglycerides, and boosts your nervous system as well.
5. Minerals
One small apple provides you with about 108mg of potassium, and a 2-tablespoon serving of peanut butter has 208mg of potassium, which work together with sodium to maintain a balance in fluid levels in your body. You need about 4,700mg of potassium every day, and you will get 7% of that daily requirement from an apple with peanut butter.
Note
While peanut butter is good for your health, you need to ensure that you opt for natural variety only. Regular peanut butter is not healthy because it contains so many filler ingredients, including hydrogenated vegetable oils and sugar. On the other hand, natural peanut butter is usually a combination of salt and peanuts, with some varieties also containing natural sweeteners like molasses.
Click for how to make apples and peanut butter snack along with nutrients information:
Nice Snack Recipe with Apple and Peanut Butter
With knowing the benefits of apples and peanut butter, why not try some recipes to enjoy those benefits? Here are a couple of nice recipes to help you prepare a healthy snack.
1. Peanut Butter, Apples, and Grapes
| Ingredients | Amount |
| --- | --- |
| Vanilla Greek yogurt (nonfat) | 2 ounces |
| Natural peanut butter | ½ tablespoon |
| Cinnamon | ¼ teaspoon |
| Medium apple | Half |
| Grapes, washed | 6 |
Directions
Take a small bowl and mix peanut butter, yogurt, and cinnamon. Then set it aside.
Take an apple and cut it into six small slices. Be sure to cut off the core on these slices. Also, slice grapes in half lengthwise.
Take that creamy yogurt mixture and spread it on apple slices. Use grapes for toppings. Serve it.
2. Sandwiches with Apple, Peanut Butter, Granola
| Ingredients | Amount |
| --- | --- |
| Apples | 2, cut into half-inch thick rounds |
| Peanut butter | 3 tablespoons |
| Lemon juice | 3 tablespoons |
| Semisweet chocolate chips | 2 tablespoons |
| Granola | 3 tablespoons |
Directions
Take one-half of the apple slices and spread peanut butter on it.
Take chocolate chips and granola and sprinkle apple slices with it.
Use remaining apple slices for topping and press it down to make the sandwiches.
Transfer to plate and serve.
Keep in mind that you should brush the apple slices with lemon juice if you are not going to eat these treats right away.