Caesar salad is amongst the most popular salads. Due to its creamy texture and variety of ingredients, it is appealing to the eyes as well as the taste buds. The dressing is where most of the Caesar salad calories come from. We will look at how much calories are obtained from the salad and some healthier alternatives to it.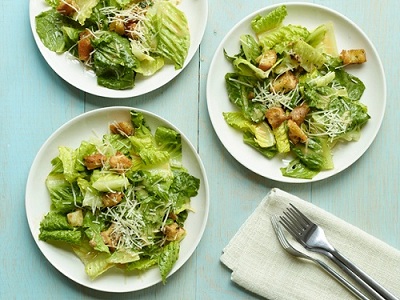 Caesar Salad Calories
The calories of Caesar salad are completely dependent on the number and quantity of ingredients used in the salad. There can be a lot of variation done in the vegetables used, as well as the ingredients of the dressing. The table below contains the calories and other nutrient content of commonly made varieties of Caesar salad.
| | | | | | | |
| --- | --- | --- | --- | --- | --- | --- |
| | Serving Size | Calories | Total Fat | Sodium | Carbohydrates | Protein |
| Caesar Salad Without Dressing | 180 g | 80 | 4 g | 230 mg | 5 g | 6 g |
| Caesar Salad with Dressing | 183 g | 327 | 21.3 g | 1260 mg | 20.8 g | 12.8 g |
| Grilled Chicken Caesar Salad | 334 g | 223 | 8 g | 344 mg | 13 g | 28 g |
Low Calorie Caesar Salad Recipes
1. No Guilt Caesar Salad
You don't need to worry about Caesar salad calories when you make this recipe. It has healthy ingredients and is low in calories, hence has no guilt factor when eating the salad.
Parmesan cheese 2 ounces
Garlic 2 cloves
Dijon mustard 2 tablespoons
White wine vinegar 1 ½ teaspoons
Worcestershire sauce 1 ½ teaspoons
Silken tofu 1 cup
Extra virgin olive oil 2 tablespoons
Black pepper 1 pinch
Kosher salt 1 pinch
1. Chop cheese cubes in a blender on lowest speed setting till it settles in the jar.
2. Increase the speed, add garlic and mince.
3. Add white wine vinegar, mustard sauce, Worcestershire sauce, kosher salt, freshly ground pepper and tofu.
4. Blend till it is smooth; meanwhile keep drizzling olive oil in the jar.
5. Continue till you achieve consistency of salad dressing.
2. Low Fat Caesar Salad
This particular dressing will give you less Caesar salad calories without much difference in the taste. You can make it and no one will notice the change in it either.
Garlic 1-2 cloves, finely chopped
Anchovy fillet 1 mashed
Worcestershire sauce 3 drops
Light mayonnaise ½ cup
Romaine lettuce 2 -3 heads
Croutons ½ to ¾ cup
Parmesan cheese 2 tablespoons, grated
Water 2 – 3 tablespoons
Lemon juice of 1 lemon
Coarse salt 1 pinch
1. Start by whisking the anchovy, garlic and salt till it blends well.
2. Later add the lemon juice, Worcestershire sauce, low fat mayonnaise and water.
3. Finally add freshly grated Parmesan cheese.
4. Take 1/3 of dressing in a salad bowl and add croutons and coat them well.
5. Add romaine lettuce and remaining dressing.
6. Sprinkle freshly grated Parmesan cheese.
3. Salmon Caesar Salad
This version of Caesar Salad has Salmon which goes well with the dressing with not as many calories as the original Caesar salad.
Alaskan salmon 2 fillets
Black pepper for seasoning
Extra virgin olive oil for seasoning
Kosher salt for seasoning
Garlic 2 cloves
Anchovy paste 1 teaspoon
Greek yogurt (fat free) 2 tablespoon
Worcestershire sauce ½ teaspoon
Dijon Mustard sauce ½ teaspoon
Romaine lettuce (torn) 4 cups
Parmesan cheese few shavings
1. Season the salmon fillets with salt and pepper.
2. Heat olive oil in a pan. Place the salmon – flesh side down – and cook till crisp.
3. Flip the salmon and put the pan in a pre-heated oven (350 degrees F).
Roast for 4 minutes and peel of the skin.
4. Mix all the salad ingredients, except lettuce and parmesan, and blend till creamy.
5. Toss the lettuce, salad dressing and top with salmon and shavings of parmesan.
Tips for Healthier Caesar Salad
1. To make a healthy salad or reduce the Caesar salad calories, make use of healthier options. Romaine lettuce which acts like a foundation for the Caesar salad should be used. Ensure not to add too many high caloric add-ons to it.
2. If you are going to prepare the dressing at home, avoid using the egg yolks which will help in reducing the cholesterol content. Add croutons made from whole grains, rather than white croutons. This will give higher amount of proteins, vitamin E and healthier fats.
3. Instead of croutons, add nuts like walnuts or almonds which will add crunch to the salad, as well as help in lowering the cholesterol.
4. When buying salad dressing, opt for the low calorie or low fat Caesar salad dressing. One tablespoon of low calorie dressing of Caesar salad contains around 16 calories and 0.66 grams of fat, as compared to 80 calories and 8.5 grams from regular dressing.