Hot summer days and fun in the sun remind individuals of one thing: watermelon. This South African origin fruit is part of the melon family and is known for its marbled green shell and juicy pink interior. As a nutrient rich fruit which is high in water content without being high in calories, watermelon can offer several health benefits. And it can be enjoyed by ways including in salads, smoothies, soups, juice, or raw.
Benefits of Watermelon
For a seasonal fruit that has zero fat or cholesterol, and is very low in calories (roughly 46 calories per 1 cup serving), watermelon is still packing a lot of punch as far as nutrients go. Its high water content provides valuable hydration to the skin and body while its juice flesh is rich in vitamins and minerals. Some of the key health benefits of watermelon are as follows:
1. Fights Cancer
As a natural antioxidant source, this fruit has the ability to fight cancer. It is ripe with vitamin C and lycopene, both of which have been proven to aid in the treatment and prevention of some forms of cancer.
2. Regulates Blood Pressure
Medical studies have revealed that an increase in magnesium, amino acids, and potassium will regulate and possibly reduce blood pressure. Watermelon is loaded with all of these nutrients and more.
3. Maintains Kidney Health
The high water content of watermelon causes it to be a natural, gently diuretic. It stimulates kidney function and reduces toxins in the body, therefore reducing the occurrence of kidney stones.
4. Hydration
According to a study from the University of Aberdeen Medical School, watermelon is a better source of hydration than water. The levels of potassium, magnesium, and calcium found in the fruit help the body absorb the nutrients better and maintain a hydrated state.
5. Boosts Immune System
As a dense source for vitamin C, watermelon can also help strengthen the immune system with regular consumption. This ensures that your body is able to properly fight off infection and heal wounds quickly.
6. Fights Inflammation
Antioxidants are known to fight inflammation in the body. As a rich antioxidant source, watermelon can improve cell growth and work with your body to fight off free radicals that cause inflammation and other health problems.
7. Combats Insulin Resistance
Insulin helps maintain blood sugar levels in the body. Insulin resistance is a factor for Type 2 Diabetes. Various studies have linked the nutrient arginine, which is found in watermelon, with a decrease in this resistance.
8. Soothes Sore Muscles
Citrulline is known to combat sore muscles after an intense workout. Watermelon juice is found to contain this mineral which boosts circulation before an intense workout.
Nutrition Value of Watermelon
Watermelon is 91% water. It is also considered low-carb and low- calorie. The following table highlights its nutritional information.
Nutrition Facts (Per 100 grams)

Amount

Calories

30

Water

91%

Protein

0.6g

Carbs

7.6g

Sugars

6.2g

Fiber

0.4g

Fat

0.2g

Saturated

0.02g

Monounsaturated

0.04g

Polyunsaturated

0.05g

Omega-3

0g

Omega-6

0.05g

Transfat

N/A

Calcium

7mg (1% DV)

Iron

0.24mg (3% DV)

Magnesium

10mg (3% DV)

Phosphorus

11mg (2% DV)

Potassium

112mg (2% DV)

Sodium

1mg (0% DV)

Zinc

0.1mg (1% DV)

Copper

0.04mg (5% DV)

Manganese

0.04mg (2% DV)

Selenium

0.04ug (1% DV
Vitamins & Minerals

Vitamin A

28ug (3% DV)

Vitamin C

8.1mg (9% DV)

Vitamin D

N/A

Vitamin E

0.05mg (0% DV)

Vitamin K

0.1ug (0% DV)

Vitamin B1 (Thiamine)

0.03mg (3% DV)

Vitamin B2 (Riboflavin)

0.02mg (2% DV)

Vitamin B3 (Niacin)

0.18mg (1% DV)

Vitamin B5 (Panthothenic Acid)

0.22mg (4% DV)

Vitamin B6 (Pyridoxine)

0.05mg (3% DV)

Vitamin B12

N/A

Folate

3ug (1% DV)

Choline

4.1mg (1% DV)
How to Choose a Good Watermelon
As with any fruit, the health benefits of watermelon are directly subject to how good the watermelon is. When shopping there are a few things to remember:
1. Check the Rind
The external part of a watermelon should be dark green and have a black marble stripe appearance to it. It may also have yellow spots. Watermelons which are light green or mostly yellow are not yet ripe.
2. Access the Inside
When you get your watermelon home, slicing it open will help you enjoy the health benefits of watermelon. The flesh should be juicy and bright pink. If it is deep red and soft, this means that the watermelon is just past ripe but still prime for eating.
3. Weight Is Important
A heavy watermelon is a ripe watermelon. Compare two melons which look the same, the heavier one may be better.
4. Seedless Is Okay, Too
Seedless watermelons are often smaller and perfect for just one person. They may have small white seeds or no seeds. Although these are genetically modified from their original counterpart, they are proven to offer the same health benefits.
5. Buy Organic
It is no secret that there have been several indications that the pesticides and other products used for non-organic planting are likely to cause health risks. If possible, buy organic watermelon.
Flavored Watermelon Recipes
After reading so many benefits of watermelon, are you eager to give it a try to enjoy all the benefits and sweet pleasure out of it? Here are two recipes for you:
Mint Watermelon Salad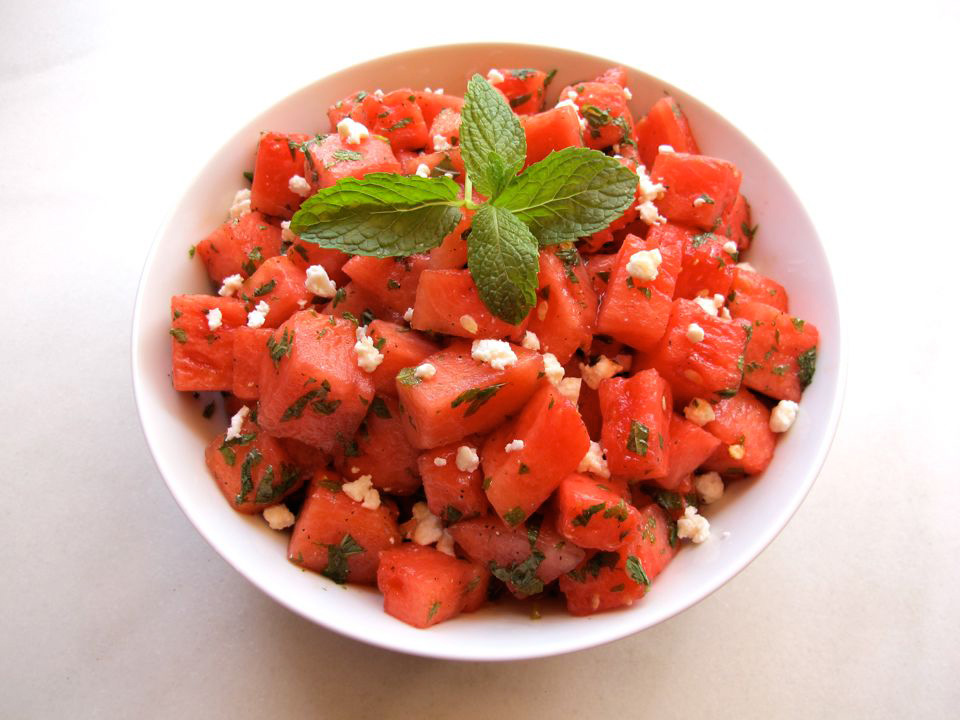 Looking for a fresh salad for summer? Give this one a try.
Ingredients:
3 cups cubed watermelon
2 tbs balsamic vinegar
2 tbs pure clover honey
3-4 mint leaves
Directions:
In a large bowl, whisk together balsamic vinegar, pure clover honey, and finely chopped mint leaves.
Add watermelon, toss to evenly coat, and refrigerate.
For a twist, add avocado and/or feta cheese to the salad before serving.
Watermelon Agua Fresca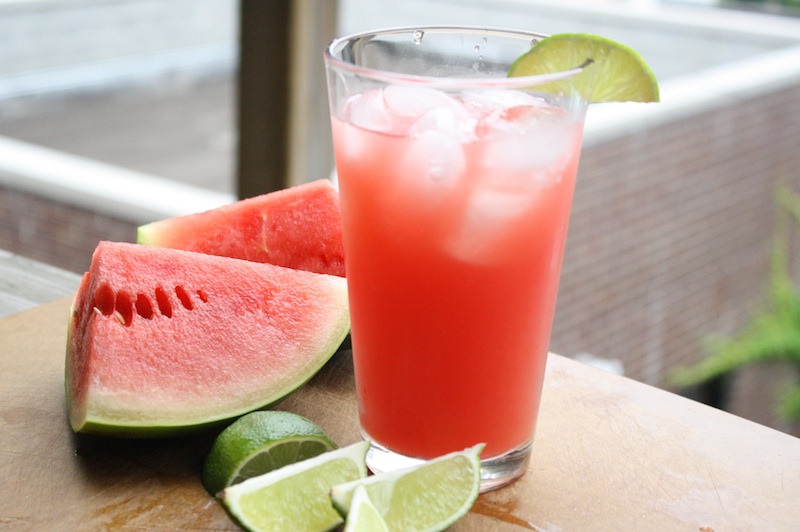 Refreshing and satisfying is how you could describe this watermelon juice recipe.
Ingredients:
8 cups cubed watermelon (1/2-inch pieces)
1 cup fresh spring water
1 tablespoon clover honey
½ cup lime juice
1 cup club soda or sparkling water
Directions:
In a blender, combine spring water, lime juice, clover honey, and watermelon. Blend on medium for 1-2 minutes until smooth.
Stir in sparking water or club soda, garnish with mint leaf and lime wedge.
For a twist: Consider soaking fruit and mint in green tea overnight for a cleansing beverage the next day.