The shelves of your grocery store are packed full of all different kinds of milk. Among your many options are sunflower milk, goat milk, hemp milk, soy milk, almond milk and cashew milk. With so many choices, how do you know what kind of milk is right for you? Each option comes with several perks, as well as a few pitfalls. Some varieties of milk are low in calories, but lacking in protein. Others that are packed with protein may have more saturated fat. Almond milk and cashew milk are two of the most popular milk options—what about them? When it comes to cashew milk vs. almond milk, which one is better? Read on to learn the answer!
Cashew Milk vs. Almond Milk: Similarities and Differences
For those looking to avoid soy or dairy milk, almond milk and cashew milk are two nut-based milk options that you may want to consider adding to your grocery list. Before you choose, however, you should consider the differences of cashew milk vs. almond milk.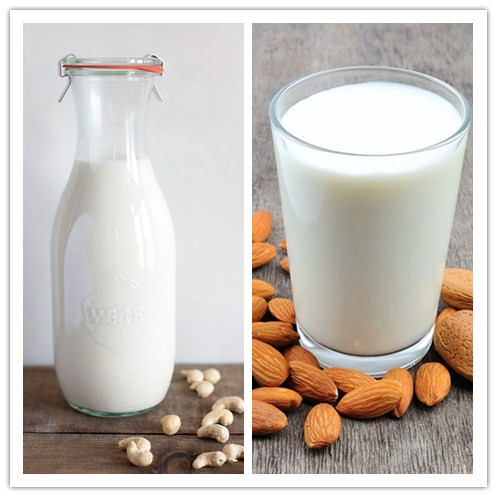 The taste of cashew milk is creamy and sweet. Its flavor is less "nutty" than that of any other seed or nut milk. Cashew milk is a great source of zinc, iron, phosphorus, magnesium, manganese and copper. One cup of non-sweetened cashew milk has only 25 calories and 2 grams of fat with 0 grams of saturated fat. Cashew milk is a great option for those who want to thicken smoothies or add a touch of richness to savory dishes or non-dairy ice creams.
Almond milk has a slightly sweet nutty flavor. If you don't like the way nuts taste, you probably won't like almond milk—cashew milk is a better option for you. Since almonds are naturally loaded with copper, zinc, phosphorus, iron, calcium, magnesium, manganese, B vitamins, vitamin E and monounsaturated (healthy) fats, almond milk boasts quite a few nutritional benefits. With almond milk, you also don't have to worry about the almonds' calcium being lost in the milk-making process. One major drawback to almond milk, however, is that its protein content is minimal, so you won't be able to use it as a source of protein with your meal. Nevertheless, you can use almond milk in everything from oatmeal to smoothies, turmeric milk, hot cocoa, and any other dish in which you'd typically use dairy milk.
Watch Out for Nut Allergy
Before you choose cashew milk vs. almond milk, it's important to make sure that you're not allergic to nuts. Those who are allergic to tree milk should avoid both cashew milk and almond milk, as well as any other products that contain nuts. The symptoms of a tree nut allergy may be mild, such as a breakout of red, itchy spots (hives) on your skin, or extremely severe, such as labored breathing or even loss of consciousness. The effects of intolerance to tree nuts will typically reveal themselves within two hours after ingesting a food or beverage that contains tree nuts.
Cashew Milk vs. Almond Milk: Make Your Own
It's easy to make both cashew milk and almond milk at home. Once you've decided which type of milk is right for you, try one of the recipes below!
1. Cashew Milk
Ingredients:
1 cup of cashews, raw
4 cups of water
1 - 2 tbs. of maple syrup or agave nectar or honey
2 tsp. of vanilla extract
A dash of sea salt
A pinch of cinnamon (optional)
Directions:
Soak your cashews (raw) in water for no less than 4 hours. Drain the soaked cashews and wash them until the water is clear. Add two cups of water and all of the cashews to your blender. Begin blending on a low speed, and then increase the speed till the cashews have been completely pulverized. Then, blend in the other two cups of water, the sweetener you have chosen, vanilla extract, sea salt, and cinnamon (if desired). If your blender isn't able to completely pulverize the cashews, you can strain your milk through a cheese cloth or a fine strainer. Store your milk in a container that is covered in the fridge—it will keep for three or four days.
2. Almond Milk
Ingredients:
1 cup of sprouted almonds, raw and organic
4 cups of filtered water, pure
vanilla beans (if desired)
honey, dates or stevia (if desired)
Directions:
Soak your almonds in water that is pure with ½ teaspoon of sea salt for no less than twelve hours. Rinse the soaked almonds well, then mix them with four cups of water in your blender. Blend the mixture for several minutes till it is creamy and smooth, then strain the mixture in a big bowl using a kitchen towel or cheese cloth. Return the mixture to the blender and blend with vanilla and sweetener of your choice. Pour into a glass container and you can store it in your fridge for no more than one week.