Being pregnant can be very exciting, whether or not this is your first pregnancy or you have had other children before. Once you have confirmed the pregnancy through the use of a home pregnancy test, you must realize you need the assistance of a midwife for the next nine months. It is important to find the right midwife and to go to the first midwife appointment with questions to ask the midwife, expecting to find one that will listen to your concerns and one who is skilled in caring about and delivering babies.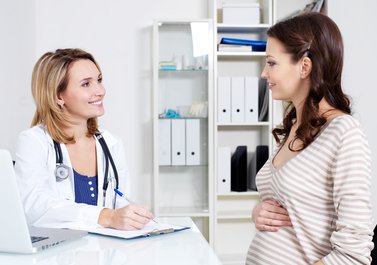 When Should You Make Your First Midwife Appointment?
As soon as you know you are pregnant, you'd better book a midwife appointment. There are midwives that work alone in a clinic that has doctors as distant backups and midwives that work directly with the physician, with the physician confirming the pregnancy first and then referring you to the midwife afterward. In any event, you should make your first midwife appointment sometime in the first trimester of your pregnancy.
What to Expect During Your First Midwife Appointment
Your first midwife appointment will be fairly long as there will be much to do. Here's what you can expect:
There will be questions that include the following:
The midwife will ask you the date of onset of your last period. Using a dating calendar, she will tell you your due date or will do an ultrasound, which can also date the pregnancy.
You will be asked about previous abortions, miscarriages, and normal births. This is your obstetrical history and may help the midwife decide if special interventions need to take place during this pregnancy.
You will be asked about your genetic history. This can help the midwife understand what genetic risks you might be facing during this pregnancy. Special testing may be needed in order to check if there is a genetic disease in the family.
You will be asked about your lifestyle. This includes what you eat on a daily basis and your exercise habits. She will ask you about smoking and drinking behaviors as well. Illicit drug use should be included as part of your lifestyle history.
There will be many physical examinations. This will include the following:
You may have a general physical examination to see if you are medically healthy enough to have a baby in the first midwife appointment. An internal examination of your uterine size and your cervix may be done to see if the growth of the baby is as expected.
The midwife may listen to the baby's heartbeat. This occurs at about 6-7 week's gestation and can tell if the baby is healthy or not. You will usually have the opportunity to listen to the baby's heartbeat as well.
The midwife will measure your height and weight. Your weight, especially, will be addressed at every visit to check on the baby's growth and to make sure you are eating enough but not too much during the pregnancy.
The midwife will monitor your blood pressure. The blood pressure in pregnancy is usually lower than your baseline blood pressure. The blood pressure will be checked at every visit to make sure there are no elevations.
You have an opportunity to ask any questions. You will likely have many questions about your pregnancy to ask your midwife at the first midwife appointment. Write down questions you may have, knowing that no question is too big or too small to ask. Be prepared to ask questions all along your pregnancy but in particular at the first visit.
Other Moms' Experiences
Knowing some experiences of moms who had their first midwife appointment may help you a lot for preparing your first one.
I decided to see a midwife during this pregnancy. While I was nervous, I loved the midwife I saw and felt that it was a relaxing experience. If you are shy, you will eventually get over it as vaginal examinations are a necessary part of the pregnancy. I had a Pap test during my first midwife appointment. The only downside is that the midwife did not do an ultrasound until about 20 week's gestation. It was a long wait to have an ultrasound. Alberta
I recently had my first midwife appointment. She asked me a bunch of questions but I didn't have to have a Pap smear or a pelvic examination. The midwife said that a Pap smear can cause bleeding and this is not necessary. She did a blood test and urine test but wasn't able to find the heartbeat. Overall, it was a positive experience. Leesha
I was booked to see the nurse midwife for about an hour, but it took longer than that. She asked me many questions about health problems I may have and checked my urine and blood. I got leaflets explaining the various tests done in pregnancy as well as those giving advice about what to eat and do so the baby grows properly. Kim
A mom also talks about her experience in the following video: