Staring into the mirror poking and prodding your nose as you wish it was thinner, shorter, and cuter is a scenario most people experience. Unless you are blessed with the perfect nose, there are many changes that you would like to make.
Cosmetic surgery is a great option for the answer to how to make nose smaller. However, most people either do not have the money to spend, or they simply do not want a doctor to cut into their face. There are many other options available for those who are not keen on cosmetic surgery.
How to Make Nose Smaller with Contouring and Highlighting
Makeup is an inexpensive, easy way to make your nose look smaller. Using a lighter and a darker foundation than our skin tone will work to make your nose appear smaller. Although your nose won't physically be smaller, it will certainly look that way.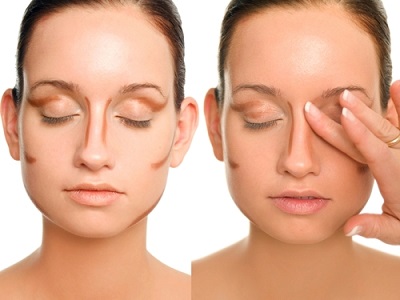 What You Need
Makeup: Choose the right make up for shading and highlighting. Powder and cream-based both work, however powder is a bit easier to blend. There is also special contouring and highlighting makeup available. Make sure you avoid makeup that is shimmery so you don't look shiny instead.
Choose an eyeshadow that is 2-3 times darker than your natural skin.
Choose a color for highlighting that is 2-3 shades lighter than your skin tone.
Make sure you know your undertone. You may have a yellow tinted or a pink tinted undertone in your skin. Choosing a color that clashes can look unnatural.
Brushes: If you are applying powder makeup, then you will need a soft bristled brush. If you are using cream-based makeup, then you will need a stiff bristled brush.
An angled brush will allow you the most control as you apply the shadow and highlighter.
When blending the colors, you will need a soft blending brush. You may use a sponge rather than a brush.
Here's What to Do
It may seem like a lot of work following the seven steps; however it will be well worth it to have a smaller looking nose. Plus, the more you do it, the easier it will get.
Step 1 – Foundation and Primer
You want to minimize your pores with the primer and give your makeup something to grip to with the foundation. Plus, they will make blending much easier.
Apply the primer with your fingers and the foundation with a brush or sponge.
Match your foundation to your face not your hand. If it is the wrong color, it will affect the outcome.
Step 2 – Highlighter
Draw a thin line down the center of your nose with the highlighter and an angled brush. If the line is too thick, your nose will look bigger.
Go from the top to the tip.
Stop at the tip, do not curve down.
Step 3 – Blend
Use the blending brush or sponge to blend and soften the highlight by running it down the center of your nose to blend the rough edges.
Blend straight down both sides, do not blend out.
The highlight is meant to draw a focus to the point as it lifts your face up so that you have dimension.
Step 4 – Apply the Shadow
Using a clean, angled brush pull the shadow from the corners of your eyes down to the tip of your nose. Then, blend the shadow up with a blending brush. Apply the shadow to the sides of your nose for slimmer nostrils.
Step 5 – Make Your Nose Look Shorter, Thinner, or Straighter
This step is divided for different nose types, you may use one or more of the following:
Shorten: Draw the shadow down the sides of your nose, then extend it under the tip above the nostrils. Make sure you blend the bottom shadow up toward the tip of your nose.
Thin: Draw the shadow from the corners of your eyes down your nose and curve both lines under the tip to form a "U" shape. Match the width with the bridge of your nose.
Straighten: Draw the shadow down the sides of your nose, stopping at the tip. Make the lines as straight as possible instead of following the contours of your nose.
Step 6 – Blend It Together
Run a soft blending brush down the sides of your nose between the highlight and shadow to soften the harsh lines. Then, feather the shadow down toward your face from the highlight.
Swirl your brush around the shadow at the tip of your nose, if you added any.
Sweep across the shadow at the sides as well, if you added any there.
Step 7 – Dust with Setting Powder
Using a large powder brush dust on some setting powder over your whole nose; this will keep your contouring makeup in place. Use a translucent powder that matches your skin tone for best results.
Watch a video to see how to do this:
How to Make Nose Smaller with 5 More Tips
1. Try Blotting Papers
Your nose is one of the most common places on your face to accumulate oil because it is in your T-zone. Using blotting papers to keep the shine away is the best method for keeping the spotlight off your nose.
2. Use Lipstick to Remove the Spotlight
Draw attention away from your nose to your lips by using a bold lipstick. First outline your lips with a matching color to help draw attention, then apply the lipstick. Once done, be sure to blot with a piece of tissue and apply a second coat if needed.
3. Dim Your Eyes
Avoid any bright eye makeup or eyeshadow that enhances your eyes. This will help keep attention away from your nose. It is best to wear natural colors and hide any shadows that may be present under your eyes. Putting a spotlight on your eyes also puts it on your nose.
4. Take Care to Style Your Hair
Learning how to make nose smaller can easily be done by way you style your hair. There are many simple hairstyles, such as a side part, which will help draw attention away from your nose.
Hairstyles that draw attention away – Side parts, layers around the face, soft curls or waves, or loose, messy, and scruffy up-dos all pull the attention away from your nose.
Hairstyles that draw attention toward your nose – Some hairstyles actually accentuate your nose. Center parts, large bangs, straight across cuts, sleek and straight styles, and tight ponytails are all hairstyles you want to avoid.
5. Exercises
You hear about exercise all the time when it comes to reshaping your body. Your nose is not any different. There are several exercises you can do to change the shape of your nose.
The Nose Shortener – Simply use one index finger to push the nose tip while simultaneously using the index finger and thumb of the other hand to compress the muscles of your nose down. Repeat this in sets of 2, 30 times a day.
Narrowing the Nose – You can narrow your nose by dropping your chin and mouth downward while you contract your nose.
Breathing Through Your Nostril – Keep your nose in shape and sculpt it at the same time. Use your index finger to close one nostril and breathe in for four second, then breathe out for eight seconds. Switch nostril and repeat several times a day.
Squeezing and Shaping – Apply pressure to the bridge of your nose using your thumb and index finger. Repeat this several times a day.
Watch a video for step by step guide of how to make nose smaller with an exercise: