It is an exciting thing to find out that you are pregnant, which is definitely one of the most life-changing moments you can experience. So how can you tell your partner, parents, friends or other important people in your life about it? Want to surprise them with this exciting news? Keep reading to find the top ways to announce pregnancy.
30 Wonderful Ways to Announce Pregnancy
Here are some of the most creative ways you can spread the news: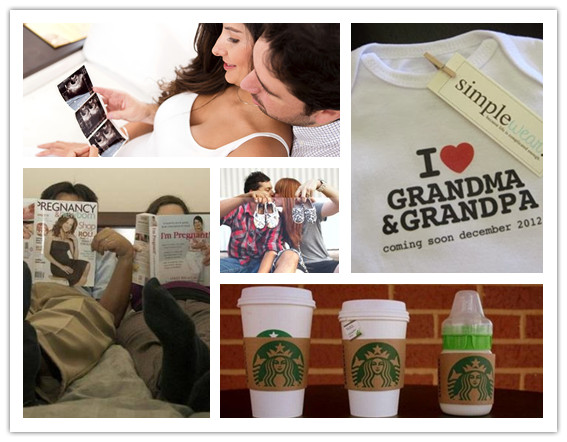 Place a dried pea in the palm of your loved ones' hand and tell them that this is the size of the baby you are carrying. They may be confused in the beginning but soon they will get it and will be very excited.
Make a puzzle for your loved one that says "we're having a baby!" When they put together the puzzle, they will get the idea and will be as excited as you are.
Put stickers on your belly that says "Baby on Board". Then have someone raise your shirt up to reveal your most precious secret.
Take a picture of the positive pregnancy test and email it to those you love and care about. They will all get it at the same time and will be able to email each other with their excitement.
Have a big cookie made from a bakery that says "I'm having a baby" and have it delivered to your husband's place of work.
Make a card for your husband that says "Congratulations, your swimmers won the race. Prize to be claimed in 9 months". Give the card to your husband at a most romantic time.
Tell your husband that you've done something that really went over the budget and prepare him to re-crunch the numbers. Instead of giving him a pencil, hand him the positive pregnancy test. He will be so excited.
If it is Christmas time, wrap up a pair of baby booties and give them to your husband or parents to announce the big event.
Get the family together for a group shot and instead of having the photographer tell everyone to say cheese, have him tell everyone say "we're pregnant!" That way they can all find out at once and will be excited together.
Order some custom-made M&Ms that say "We're pregnant" or "Baby makes three". Make sure the M&Ms are pink and blue unless you already know the sex of the baby.
Buy pink and blue balloons and send them or give them to your loved ones. They will eventually figure out that this means you are having a baby.
Make a couple of T-shirts. One is for the pregnant woman to wear that says, "I have a pea in the pod". The other is for the husband that says "I have a bun in her oven" with an arrow pointing to the pregnant woman. Wear this to a family gathering and see if they figure it out.
Buy a pink onesie and a blue onesie and lay them out on the bed. When your husband comes home, ask him which color he thinks your new family member will like.
Get a copy of the ultrasound and mail them to all your friends and family. Put your due date on the picture and tell them this is the newest member of their family. They will be so excited when they get the letter.
Use some baby bottles with designs on them and fill them with flowers. Tie them with ribbons and baby things like rattles and baby shoes. Give them to your husband or other loved ones to see if they get it.
You may also get some ideas about ways to announce pregnancy by enjoying other people's experiences.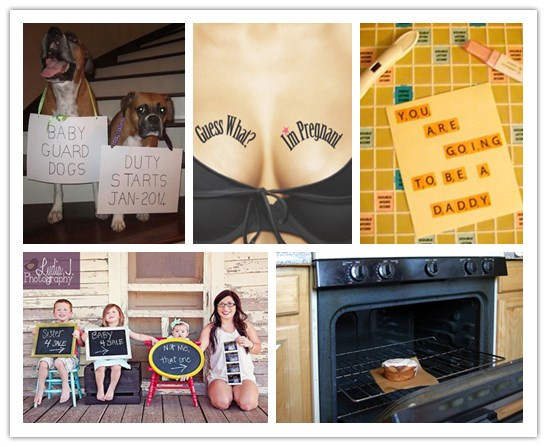 I bought a Father's day card during the season and kept it until I found out I was pregnant. Then I gave it to him with the inscription "From Mommy and Baby". He was so excited to get the card.
I gave my husband a coupon that said "This coupon is redeemable for one baby, available on (my due date). He was so excited to get the coupon and understood it right away.
I took my positive pregnancy test and pretended it was a thermometer. I took it to my husband and told him "I can't read the thermometer. Will you read it?" He got it right away and was very surprised.
I wanted to tell my family in a special way. I bought a children's book and inside the cover, I put "Please read this book to me on (my due date). Love, baby." We videotaped the event and will keep it to show our baby when he grows up.
I was expecting our second baby, so I had a T-shirt made for our older child that said, "Oops, mom and dad did it again. I'm going to be a big sister on (my due date)." It took my parents a bit to notice the T-shirt but when they did, they were so excited.
I made a movie poster to announce my pregnancy. Under the production company name, I put my name and my significant other's name. On the release date, I put my due date. Everyone loved it.
I got a chalkboard and drew a picture of a baby bump with my due date on the bump. I kept it up in the front window, so my relatives could see it when they came in the front door. They were all so excited.
One of the ways to announce pregnancy is to take a picture of your children with their birth order. I did that and draped a sign over an empty chair in the picture so that my family would get that there was one more.
My husband and I got two balloons. One said, "Expected to pop" and the other said my due date. I had someone take a picture of the balloons in each of our mouths and had copies sent to all of the relatives.
I took a picture of the whole family with their birth years on signs they held. Over my belly, I put my due date and sent the picture to all my loved ones to announce the big day.
I took a picture of myself in front of a "Bump Ahead" sign and emailed it to my husband. He didn't get it right away but when he did, he was so excited.
I served my husband a plate of spaghetti that said "We're pregnant" in permanent ink on the plate. When he finished his plate, the surprise writings were underneath the noodles.
I bought my husband a bunch of candy bars and a note that said "If I'm going to get fat, so are you!" He was surprised but got it right away.
I found a T-shirt that says "I'm going to be a daddy" and tucked it into his brief case. He found out at work and called me right away.
I put a bun in the oven and told my mother to get the food out of the oven. It took her a while to figure it out but, when she did, she was very excited.
Here are some really funny ways to announce pregnancy, you can enjoy it and let it spark your mind: